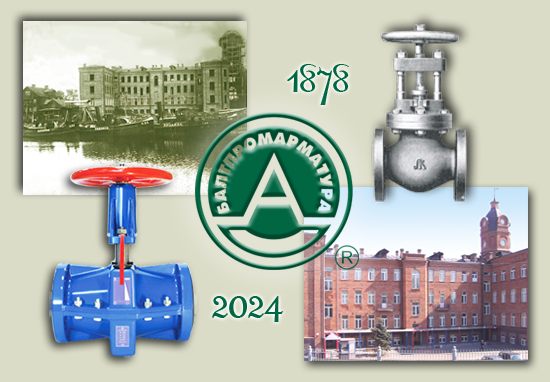 The society with limited liability 'BALTPROMARMATURA' has been formed in 2000 owing to reorganization of Joint Stock Company 'Znamya Tryda',
which history has started as the Valves Plant 'Langenzipen & Co' from 1878 in Saint-Petersburg, Russia.
'BALTPROMARMATURA' Ltd since 2001 is a part of the St.-Petersburg Commercial and Industrial Chamber.
'BALTPROMARMATURA' Ltd is major Russian engineer, producer and distributor of industrial pipeline valves.
Manufacture:
pinch valves
bellows and lined valves
check valves
ball valves
globe valves
pneumovalves
three-way valves

spare parts for valves
protection cups for pipeline valves

Our valves are suitable for: abrasive, corrosive fluids, gas, steam, chemical and petrochemical products, pulp, suspension, waste water,mine slurries,
cement, pulp stock, powder, pellets, organic and inorganic acids, chlorine, sewage, drinking water, paper pulp, viscous and granular materials.
Our valves are widely used in many fields: chemical water treatment at Heat and Power Plants, neutralization stations of chemical and
galvanic production facilities, sewage treatment plants of the water recirculating systems of works, food, glass, metal, pharmaceutical,
water, waste treatment, power, conveying, mining, paint, chemical, pulp & paper industries, agriculture and municipal economy.
BALTPROMARMATURA's valves covered by certificates of conformance with Gosstandart of the Russian Federation
(Standard Control State Organization), Rostechnadzor (State Board of Technical Inspection) to usage of valves for industries connected with
handling and (or) storing of highly explosive, fire dangerous, aggressive, toxic and chlorinated substances and compounds, hygiene and
sanitary certificates for using at water supply systems.
Since 2001 into the 'BALTPROMARMATURA' Ltd has been functioning System of Quality Management, which is certificated on conformity to
requirements ISO 9001 by the organization of system quality certification 'Test–S.-Petersburg'
Our system of a quality management has following certificates:
- Certificate of Conformity 'IQNet' - the certificate of conformity on behalf of the International network on certification,
which partner is 'Test–S.-Petersburg';
- Certificate of the Conformity which have been given out under accreditation of a member of the International Forum on accreditation (IAF)
of the Italian association on accreditation ACCREDIA